The Hacklewrappers are a six-piece Americana/folk/bluegrass band based in the Twin Cities east metro area. They met each other at various jams in the area and, liking the sounds they heard when playing together,  decided to start a band.

Personnel: Bill Lindroos, guitar & fiddle; Doug Chasar, mandolin; Gordy Bergstrom, guitar; John Bergquist, U-Bass™; Mark Rubbert, mandolin; Julia Ryan-Holch, fiddle. And ... vocals by all!

Bill grew up in the small Upper Peninsula mining town of Ishpeming, Michigan. Inspired by his father, he took up the violin at an early age, but then gave it up for decades before inspiration struck again when he started attending jam sessions in the Twin Cities area. Like nearly every teen in the '60s Bill also learned to play a few chords on the guitar – mostly in hopes of getting the girl (it worked once — the only time it mattered). He also sang in his high school chorus, where he first experienced the terror and the joy of performing on stage, in the beautiful IHS auditorium (He'll tell you that he has sung on the same stage as Alison Krauss, Taj Mahal and Emmylou Harris, and it's true – BUT…) Bill also loves to fly fish for trout and has been known to wrap a hackle from time to time.

Doug grew up in the San Francisco Bay Area with a love of listening to music. Inspired by Led Zeppelin's "Battle of Evermore" and "Going to California" as well as several songs on Elton John's "Madman across the Water" album, he chose to learn how to play the mandolin. (Also, his high-school buddies all played guitar.) He taught himself mandolin using various instruction books for several years, and then the demands of work and travel put his musicianship on hold. Immigrating to Minnesota in the early '90s to get married, he still had very little time to play. It wasn't until the divorce that he was able to re-dedicate himself to being a musician. He takes mandolin instruction with Mark Briere at the Homestead Pickin' Parlor and leads three weekly jams in the Twin Cities. He met Bill and Mark when they were members of the Highway 61 band and talked them into letting him run the PA system for their gigs. A while after Highway 61 disbanded, he joined them, Julia, Gordy, and Dan Parker (bass) to form The Hacklewrappers. Dan has since retired and John has assumed the bass position. Doug plays mandolin, mandola, sings, and is the band's sound tech.

Gordy plays lead guitar with the Hacklewrappers. He has served as an informal mentor to developing guitarists. If anyone has a question about guitars and the materials used to build them, guitar makers and their techniques, or guitarists and their playing styles, Gordy is the guy to ask.

John is a lifelong musician. He studied piano beginning at age seven, played trumpet in high school, college and U.S. Army & Minnesota National Guard bands,  sung in church and high school and college choirs, and dabbled with guitar ever since the "folk craze" of the '60s. He earned his degree in Music Theory from the University of Minnesota. He is self-taught on bass, aided by many fine instructional books and videos over the years. He first picked up the bass guitar upon buying a third-hand Hofner "Beatle bass" for $35 from a fellow Army bandsman in the '70s. He now specializes in playing his U‑Bass™ short-scale semi-acoustic bass with various jamming and casual performing groups in the Twin Cities area that focus on bluegrass and related music. John is an anomaly: a traditionalist musician who plays a non-traditional instrument – although in a traditional style. He has been an avid collector of recorded music across many genres for decades (45s, LPs, cassettes, CDs, and mp3s as technology has evolved) and owns a personal music library of more than two thousand albums.

Mark began his musical career singing solos and duets in elementary school and junior high.  During high school he sang in a select choir that toured extensively in the Midwest. Mark studied piano for two years while in junior high.  He played in high school band, sang in choir, and learned to play the pipe organ during his college years. Mark decided to resurrect his musical interests in 2007.  He bought a mandolin, took a few lessons, and learned to sing and play at the same time.  This led to the formation of the band Highway 61, which performed throughout the Twin Cities and in some remote Minnesota locations from 2009 through 2012.  His newest endeavor is the Hacklewrappers band, formed in 2013. He continues to enhance his musical interests, learning the guitar, fiddle, and banjo.

Julia The youngest of five kids growing up down the Mississippi from here, Julia was always under the influence of some music or other. In the span of a week at the family home, she might absorb earnest folk, Dixieland, Motown, Big Band, British invasion, buttoned-up classical, TV variety show performance and acid rock. Following an early decade of orchestral violin, piano, choirs and school musicals, she ventured into fine arts college, then working life, parenting, and a bit of a music nap. A few years back she set a musical intention and dipped a scaredy-toe into the waters of the Twin Cities' friendly Americana jamming culture. First, a fiddle appeared, then some great players looking to collaborate. These days you can hardly pry the mic out of her hand.  She hopes that grandpa England, barn dance musician and leader of his family's 1930s Hawaiian string band (including Mom on uke), would be proud to see the circle closing.
---

And what exactly is a Hacklewrapper?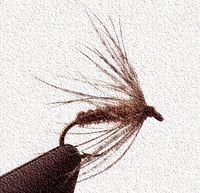 In the world of fly tying, a hackle feather — often from a rooster — is wrapped around a fish hook in an effort to imitate an insect or bait fish, and thus fool an unsuspecting game fish. Fly tiers don't typically call themself "hacklewrappers," however. The truth is we made this up.
 
The conceptual stretch to our band? Well, we perform a song about a fish that has been caught (but it's not a rap song, at least at this time…)
.